On September 9, Malaysian authorities seized 50 rhino horns and pieces of horn from a vehicle near Kuala Lumpur International Airport and arrested two men. This is the largest seizure of rhino horns in the country since 2018. The horns are subject to forensic testing and their provenance is under investigation.
With this seizure, more than 3.2 tons of horns and 314 other whole, partial or fragment horns were confiscated in 217 incidents related to Southeast Asia from January 2010 to September 2021.
More than half of those seizures took place in nine countries in Southeast Asia and accounted for almost two-thirds of the total weight of horns seized over the past 17 months. Brunei was the only ASEAN * country not linked to the seizures. The remaining confiscations were carried out by non-ASEAN countries involved along the trade route.
This highlights Southeast Asia's role in the illicit global rhino horn trade and how important it is to meet both supply and demand here if rhinos are to be saved. . "
Kanitha Krishnasamy, Director of TRAFFIC in South East Asia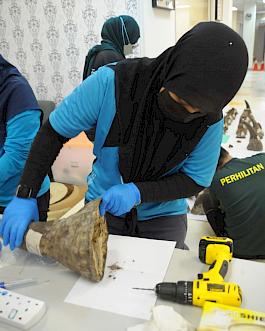 All over the world, confiscated horns are reported either by number of individual horns, pieces of horns or by weight. Countries are involved as the source, transit points or destinations for these trafficked horns.
TRAFFIC's analysis of publicly reported horn and horn chunk seizures linked to Southeast Asia between 2010 and 2021 showed fewer separate incidents in recent years, but greater weights seized.
Last year, a peak of 460 kg of rhino horn was recovered from 14 seizures, compared with 402 kg of horn from just eight seizures in the first nine months of 2021. If this trend continues, the trafficking of horns in rhino is expected to hit a new all-time high. by the end of the year.
The numbers paint a grim picture on World Rhinoceros Day, as rhino populations in the wild continue to decline due to poaching and trafficking, driven by demand for rhino horns in traditional remedies.
"These findings are a cry for the authorities to spare no effort. Southeast Asia needs to go beyond vigilance to conduct thorough investigations that can uncover the people behind the networks, their finances and their links to other areas of crime, "Krishnasamy said.
She also called for more effective collaboration between countries of origin, transit and destination, as a South Africa-Malaysia link has also become apparent. South Africa has made six seizures since July 2020, all of them destined for Malaysia. These six incidents resulted in the confiscation of 393 kg of rhino horn.
The analysis also showed that Viet Nam was involved in most of the seizures in the region – almost 60% of the 217 incidents since 2010. In 2020 alone, Viet Nam was involved in eight of the 14 seizures related to the Southeast Asia region.
Viet Nam also carried out the largest confiscation by weight in Southeast Asia in July 2021. Customs at Da Nang Port found 138 kg of horns among three tonnes of bones from wild animals, including lions. The shipment arrived from South Africa.
As we mark World Rhinoceros Day, Southeast Asia must also seriously address the problem of demand and consumption of rhino horns in the region and engage in efforts to control rhino horns. catalysts and drivers of this illegal trade.
Trinh Nguyen, Director of TRAFFIC for Viet Nam